FreshFrozen for Pets is produced in Mouscron (Belgium), by butchers, in a quasi-artisan way, in a state-of-the-art production facility. We are proud of that. For this we obtained the Handmade in Belgium label from Unizo in 2019. #handmade.
The preparation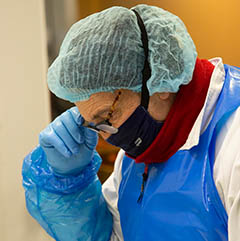 FreshFrozen for Pets is prepared under the all-seeing eye of Eric. Eric used to have a butcher's shop in northern France. Not easy these days. So Eric started working in the wholesale industry. But Eric missed something, namely creating meals, which required his experience as a craftsman. Today, he use his craftmanship to make FreshFrozen products.
Eric checks all the raw materials before they go into the recipes. Every piece of meat used in our recipes literally goes through his hands. Bad pieces of meat are picked out and registered, for further follow-up with the supplier.
Eric weighs everything neatly and hands over the assembled recipes to Jimmy. Actually, Eric should already be retired. But he can't stop being a craftsman. And we and the pets he spoils can only be grateful for that.
Processing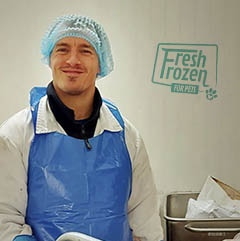 Jimmy is the driving force in our enlarged butcher's shop. In the 'grand atelier', Jimmy successively minces the composed recipes in the (large) mincer, mixes them and shapes them into a hamburger. Jimmy does this with unprecedented passion. He is the indispensable link between the various machines and constantly rolls carts full of delicious ingredients from one machine to another. There is no cart with meat that does not pass through Jimmy's hands, always with a beaming smile. Nice detail: Jimmy is always the first to be present in the morning. Upon arrival, he makes sure Eric's coffee is ready and that his boots are warmed up, without anyone ever asking him. Isn't that nice!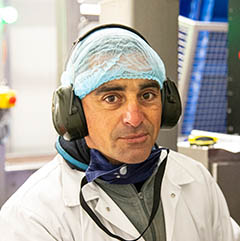 Meanwhile, Chakib comes by to check the temperature in the carts full of delicious meat. The temperature of one out of five carts is measured manually, both before the burgers are formed and frozen till -32°C. These temperatures are recorded. If the temperature is not as required, action is taken. Chakib is our production manager. Besides controlling the temperature, he performs many other control tasks on and off the work floor and personally ensures that the factory is kept running, from the arrival of the raw materials until the departure of the finished products.
The packaging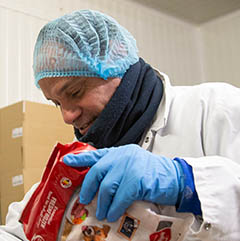 And then there is Vincent. When our delicious hamburgers come out of the freezer, they are first packed. Then comes the metal detection and the weight control. Before they go into the cardboard box, they are inspected by Vincent, one by one. Vincent works in a sheltered workshop but 4 days a week, he joins us in the packaging department. He watches over the quality of our bags before they go into the cartons. Vincent has never been absent. He is there every time again, often half an hour before he is due to start. It is fantastic to be able to count on such motivated colleagues.
Vincent is assisted in this task by Jugurtha, who helps to stack everything on a pallet and acts as Chakib's right hand man.
We are proud of our quasi-artisan production process, even though we are supported by the most modern machines. It also explains why our hamburgers do not always look exactly the same. Sometimes they are a bit rounder, sometimes a bit thicker, sometimes a bit smaller. But always just as tasty and... #handmade in Belgium!