Once upon a time there were two successful entrepreneurs, a little brother and a sister, who were looking for a new challenge.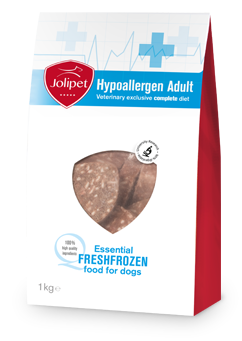 The two entrepreneurs were both active in the world of meat, one (Johan) with his slaughterhouses, the other (Olivier) with the family business that wholesales horse meat. They saw the demand for certain cuts of meat increasing and thought they could play a part in it. JOhan + OLIvier + PETfood = JOLIPET© was born.
There was an idea, there was a name and there were raw materials. Along came the little brother, Pierre. He had travelled all over Europe for an international consultancy firm and thought he had learned enough to start his own business now. Jolipet recipes were developed with the University of Ghent, funding was secured and a state-of-the-art machine park was set up in a small factory in Mouscron. It was 13 August 2013, and the first Jolipet bags rolled off the conveyor belt.
So now there was a product range and a factory. Along came the sister, Caroline. She had already swum through several waters  and was in-between-jobs as it was called. Caroline had always been surrounded by animals. When asked to work for Jolipet, she enthusiastically said YES! However, it was not easy. Little brother and sister had hardly crossed paths in the last 20 years, except for the annual family gatherings. And also the characters were, well, ... quite different. It was 1 September 2013 and Caroline was off for her 1st Jolipet© day.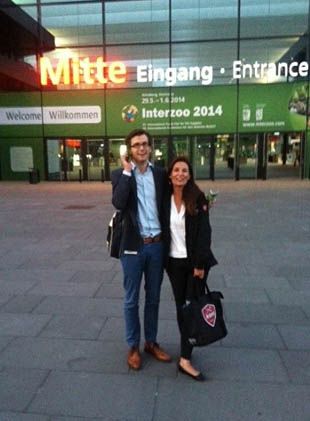 And off they went. By the end of 2013, Jolipet was available in 192 outlets in Belgium. However, the Belgian consumer was not immediately ready for a food that was only made from raw materials of human quality. Despite the quality of the food, in the first few years we had to succumb to the marketing violence of products of lower quality. Frozen-food logistics also presented unforeseen challenges and slower-than-expected growth.
However, under the motto 'quality eventually comes out on top', little brother and sister kept going full steam ahead, fully supported by their partners. In 2015, Wolf's Menu© made its entrance and proved to be a hit. The combination of a higher meat percentage, a lower price and a larger offer for our retail customers ensured that consumers started to find their way to our FreshFrozen products more and more often. At Interzoo 2016, we launched Jolipet© Cat, the first complete FreshFrozen food especially for cats. And in 2020, Barf Buffet© completed the product range to reach owners even better.
The FreshFrozen for Pets family was complete.
Today, our products are sold in 9 countries in more than 600 active points of sale. We are one of the few FreshFrozen producers in Europe with an FCA label and a pioneer at European level to further professionalise the sector, together with the food safety authorities. And in the meantime, we continue to build our story.