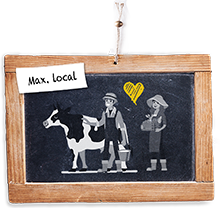 At FreshFrozen for Pets we try to work as much as possible with local companies to support the local economy, limit our ecological footprint and guarantee the quality of our raw materials.
Initially, we had set the goal of sourcing 90% of our raw materials locally, i.e. within a 200km radius of our Mouscron plant. In 2019, we succeeded in sourcing 95% of our raw materials locally.
Due to increased quality requirements for certain protein sources, we will not be able to meet our target for the time being. In 2020, we reached 71%. In 2021, we reached 82% in the first half of the year.
EU meat with strong local roots
For example, all the beef we use is Belgian and largely sourced from a leading EU slaughterhouse next door; our horse comes from a family business less than 10 minutes' drive from our door; much of the lamb comes from a slaughterhouse in Zeeuws-Vlaanderen. Most of our chicken comes from Sweden, to reduce the risk of possible pathogens. We import the turkey from Germany. The rest of our lamb, of course, comes from Ireland; and our salmon, sometimes from Alaska and sometimes from Norway. So we get the meat where it makes the most sense to get it, without detours.
Local fruits and vegetables
Our fruit and vegetables come from a world-class local supplier, located 20 minutes' drive from our factory. There, after being harvested, the raw materials are washed, peeled, cut, blanched (vegetables only) and frozen at an accelerated rate to maximise vitamin retention. Did you know that the time between harvesting and freezing is less than 24 hours, so the nutrients are preserved to the maximum?
Local additives
The premixes are made by a local family business with a presence in 30 countries, based on recipes that we have calculated ourselves, thanks to the knowledge we have acquired through our collaboration with Ghent University.
Our corn oil and rapeseed oil come from 2 different companies located in Belgium; the salmon oil comes from the Netherlands.
Made in Belgium therefore applies not only to us, but also to the vast majority of our suppliers.